Feldman & Lee PS – Lynnwood Office
19303 44th Avenue West
Lynnwood, WA 98036
Phone: (425) 771-3600
Fax: (425) 775-8016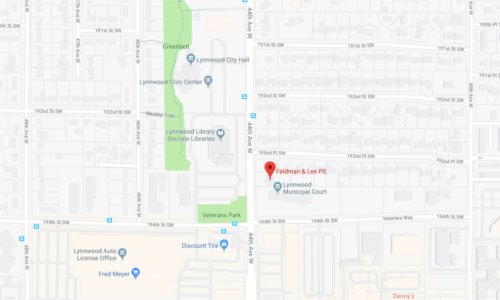 Contact Lawyers in Lynnwood, WA
The team at Feldman & Lee in Lynnwood is multi-disciplined and experienced in a variety of legal matters, from criminal defense to family law. Whatever your case, we will devote our full focus and resources to it to help you achieve the best possible outcome for you, your family, and everyone involved.
Criminal Defense Attorneys in Lynnwood
When you're charged with a criminal offense in Washington, it can jeopardize many areas of your life, including your family relationships, your career, and even your right to carry a firearm. If you have recently received a summons, were arrested, or have already served jail time, you have questions that deserve answers. It may seem like the system is out to get you, so don't make the mistake of not having an experienced criminal defense attorney on your side. In criminal cases, it's crucial for you to understand your rights and know the potential outcomes of your case so you can prepare yourself as much as possible.
Choose the best criminal defense attorney Lynnwood has to offer with Feldman & Lee. Our lawyers have over four decades of experience in criminal defense, and you will receive an honest assessment of your case and what you may be facing. We will work with you to shape a defense strategy that is in line with your wishes, and our multi-disciplined approach and resources allow us to work on getting you the best possible outcome.
Preserve Your Relationships with Family Law & Divorce Lawyers in Lynnwood
It can be argued that family law is one of the most emotional and stressful areas of law because of the impact it has on entire families and personal relationships. With cases such as divorce, child custody, child support, and spousal support, Washington family law cases involve a high level of emotion, making it even harder for those involved to make tough choices without help or a full understanding of their cases.
Our Lynnwood Feldman & Lee team knows how important it is for our family law clients to have a clear and accurate picture of their cases, because that is the only way to make informed choices on such important matters. We will make your case our focus and will be available to handle time-sensitive matters and emergencies that impact your daily life. With us by your side, you will know what your real options are and what the potential cost of your case is, so you're not faced with added surprises during such a difficult time. Our team works to develop a long relationship with our family law clients, so we are available and already familiar with your case when you have to deal with related matters down the line.
Spousal and Child Support in Lynnwood
Spousal support and child support impact both the payer and payee on a financial level. No matter which party you are, it's important to have a support order that is balanced and fair while addressing the needs of who it is ordered for. We will evaluate your support case and work to make sure the final order is what it should be when all aspects are considered.
Child Custody Lawyers in Lynnwood
Your child is the most important person in your life, so it's not surprising that you only want the best for him or her. Chances are the other parent feels the same way, which is why child custody matters can be complex and fraught with emotion. In these cases, it's important to have an experienced child custody attorney on your side who will listen to your wishes and help you resolve the matter.
Divorce Attorneys in
Lynnwood
Divorce can take many paths, from smooth sailing to incredibly heated. In a contentious divorce, you need to make sure you are protecting yourself against the harm your ex-spouse can cause by doing things like running up joint debt or selling off assets. Many divorce scenarios require you to have legal help in place before you're left dealing with a mess. Even with a peaceful divorce, you may still be left with questions about areas like property division and child custody. At Feldman & Lee, our divorce lawyers in Lynnwood will answer your questions and help you settle your divorce, defending your rights in court if the situation arises.
Get What You're Owed with a Personal Injury Attorney in Lynnwood
When you are injured because of someone else's actions, it can have devastating effects on your life. Instead of focusing on getting better, you may find yourself worrying about medical bills and all the money you've lost because of missed work. With so much going on, the last thing you should have to deal with is the stress of the financial losses your injury is causing and what that's doing to your life and family.
Our personal injury attorneys in Lynnwood are here to tackle your personal injury case and work toward getting you the compensation you deserve. We understand you need time to rest and recover, so we are prepared to handle insurance company negotiations, take your case to court if necessary to defend your rights, and make sure that all the responsible parties are covering your losses. At Feldman & Lee, we take the recovery of our personal injury clients seriously, so let us do the heavy lifting for you during this difficult time.
Slip and fall accident
Slip and fall accidents are sometimes treated as a joke in the media, but the truth is that you can seriously injure yourself when you fall. Falling down damaged stairs because a landlord didn't bother to do proper maintenance or slipping on the ice because a business owner didn't keep up with his responsibilities is not your fault, and you should not take losses or pain related to such a fall lightly.
Dog Bites
Even the most friendly-seeming dogs can snap, and when they do, people suffer as a result. Dog bites can leave serious injuries behind and cause victims a lot of distress. When a dog owner fails to control his or her animal and you suffer as a result, you have rights.
Auto Accidents
Bus, truck, and automobile accidents are incredibly common everywhere, and Washington is the site of many each year. Any type of auto accident can leave victims with serious and long-lasting injuries or injuries that prevent work and other daily life activities for some time. Unfortunately, insurance companies often seek to settle these cases as quickly as possible to save money, and that tends to leave the victims with the short end of the stick.
Many different types of scenarios can lead to you being injured because of someone else's behavior or failure to live up to their responsibilities. You should not have to worry about paying health care bills or making up for lost wages while you try to heal. Feldman & Lee will advocate for you while you work on what's important: healing as much as you can and living your life as you did before you got hurt.